Flying Hirsch – A no-frills party hit
Flying Hirsch. If you are looking for a cocktail that can be mixed without much effort or equipment and still impresses the guests, the Flying Hirsch is the right choice.
The popular party drink only consists of two ingredients. Although there are different ways to prepare it, what they all have in common is that they are concocted in no time at all.
The best of two worlds
What do you get when the German classic of herbal liqueurs and the Austrian superstar of energy drinks join forces? Correct: a cocktail bestseller that has long since conquered bars worldwide.
The Flying Hirsch is, as the name suggests, a combination of Jägermeister and Red Bull. The herbal liqueur made out of 56 herbs is produced in Wolfenbüttel, Lower Saxony (Germany), while the energy drink Red Bull is produced by the Red Bull company, headquartered in Fuschl am See (Austria).
Scholars are still debating who came up with the idea of combining the two into a cocktail first. Numerous bars and après-ski lodges claim the invention as their own. One of the legends says that the Flying Hirsch was invented on the Riedalp (Switzerland). Since the combination of alcoholic beverages and energy drinks has been popular for years, it's very likely that there are several inventors out there.
Fact is: the Flying Hirsch (also called Jägerbomb) has long been a staple not only in the Alpine countries but also in the USA and Finland, among others. Its bitter-sweet flavor and invigorating effect make it a popular party drink, especially when it's ice-cold. Whether at après-ski or at the pool party. It's the best of both worlds.
Flying Hirsch
No frills, big effect: The Flying Hirsch made with Jägermeister and Red Bull is ready in no time and an absolute mood booster at any party.
Print
Save for later
Ingredients
2

cl

Jägermeister

5

cl

Red Bull

some

ice cubes
Preparation
Put ice cubes into a long drink glass.

Pour Jägermeister over ice cubes.

Fill up with the energy drink.
Nutrition
Serving:
1
Cocktail
|
Calories:
89
kcal
|
Carbohydrates:
12
g
|
Protein:
1
g
|
Fat:
1
g
|
Sugar:
12
g
|
Proof:
10
% vol
Have you tried the cocktail?
Share it with us on Instagram by tagging us! @Alcipedia or with the hashtag #Alcipedia!
Tips and variations of the preparation
A popular method of preparing the Flying Hirsch is to place a small bottle of Jägermeister (2 cl or 4 cl, depending on thirst and glass size) in a glass and then pour in Red Bull. Again, depending on your preference, you can fill it up until it covers the stag or until it reaches the bottleneck. The drinks don't mix until you drink them together.
The Jägerbomb version is somewhat more elegant: First, pour the herbal liqueur into a shot glass and then sink it into a long drink glass.
Since there's no more room for ice in the glass with either of these preparation methods, it is important that the beverages are ice-cold.
If you want to create even more atmosphere: "Flying Hirsch" by Peter Power & Flying Hirsche is the perfect soundtrack for this cocktail at lively parties.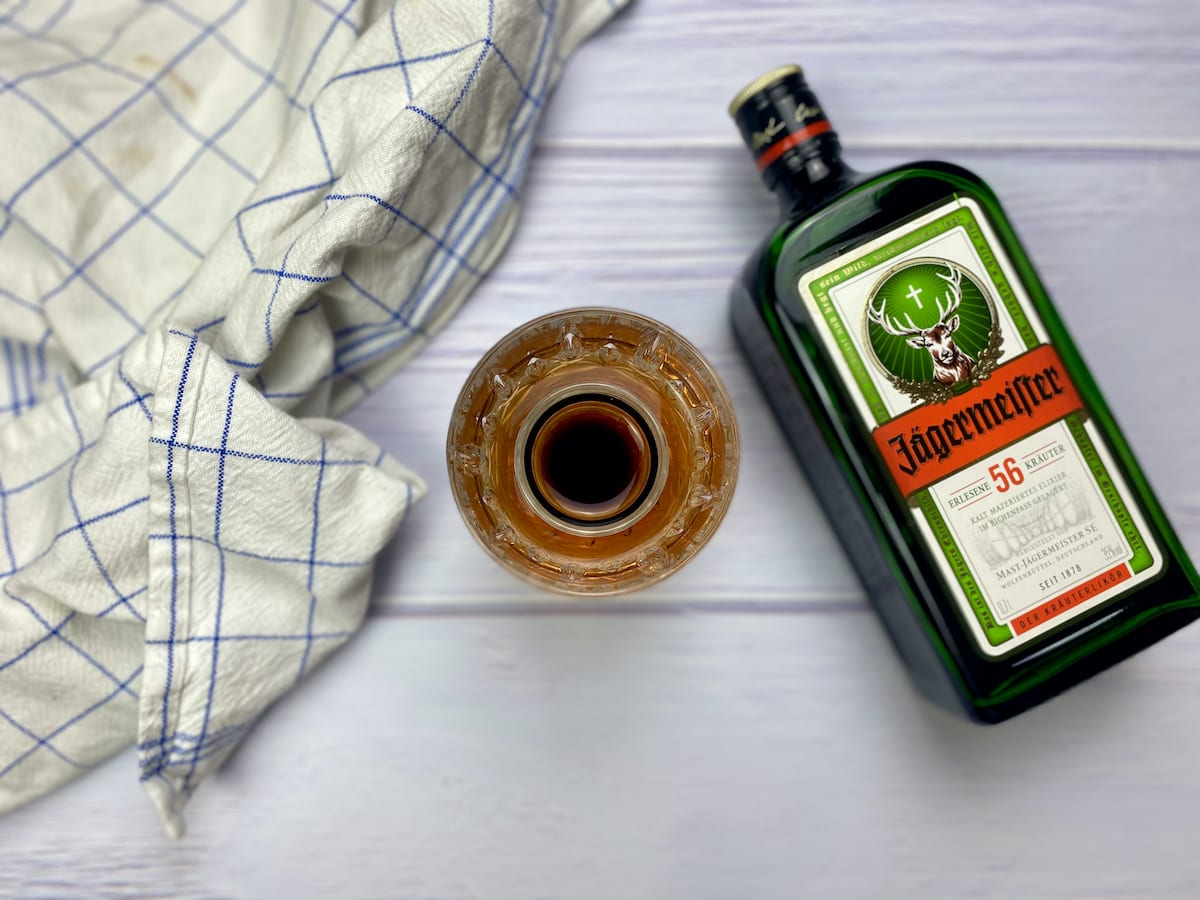 Frequently asked questions
Can I use another herbal liqueur instead of Jägermeister?
Honestly, that's not recommended. Herbal liqueurs have an enormous range of flavors, from sweet to extra-bitter, and not all of them can be mixed with energy drinks. The perfect Flying Hirsch is definitely achieved with Jägermeister.
Is the mixing ratio set in stone?
No, since this cocktail only consists of two ingredients, you can easily adjust it to your liking. While some swear by a mixing ratio of 1:3, others even use equal parts Jägermeister and Red Bull. Our recipe is in the middle of both approaches – give it a try and adjust if necessary!
Does any other energy drink work too?
Yes, in theory, you can of course also use another energy drink (even if die-hard Red Bull fans will surely take an issue with it). But the original flavor comes from the composition of Jägermeister and Red Bull – the cocktail is called Flying Hirsch (Stag) for a reason.
You might also like