Caipirinha Cocktail Recipe — The Brazilian Classic
Wonderfully refreshing with a lovely fruity flavor: There is no other place the caipirinha could have originated from other than Brazil! The cocktail has become a real classic and can now be found on every beverage menu.
The name Caipirinha is a diminutive of "Caipira", which means something like hillbilly. But the Caipirinha is anything but a rural drink: After the end of the First World War, it spread through the major cities of Brazil, from where it rose to international fame. The main ingredient of Caipirinha is Cachaça, a traditional sugar cane brandy.
A trendy drink with a story
The Brazilian cocktail became a trendy drink in the 1990s when it first hit bars and clubs in Europe. Due to its popularity, many Caipirinha recipes have now become well-established.
Great popularity ensures diversity
If you replace the Cachaça with vodka, you get a Caipiroska. If you use rum, you end up drinking a Caipirissima. Another version with sake, known as Caipisake, is popular in São Paulo. A classic Caipirinha consists of Cachaça, lime juice, sugar, and crushed ice. White cane sugar is an essential part of the drink — you should not use brown sugar.
An absolute classic in Germany too
This cocktail is particularly popular in Germany. Around three million Caipirinhas are served in German bars every month. For a long time now, the Caipirinha had what it takes to become the German national drink. Especially considering how this drink is not even that popular in its homeland.
Classic Caipirinha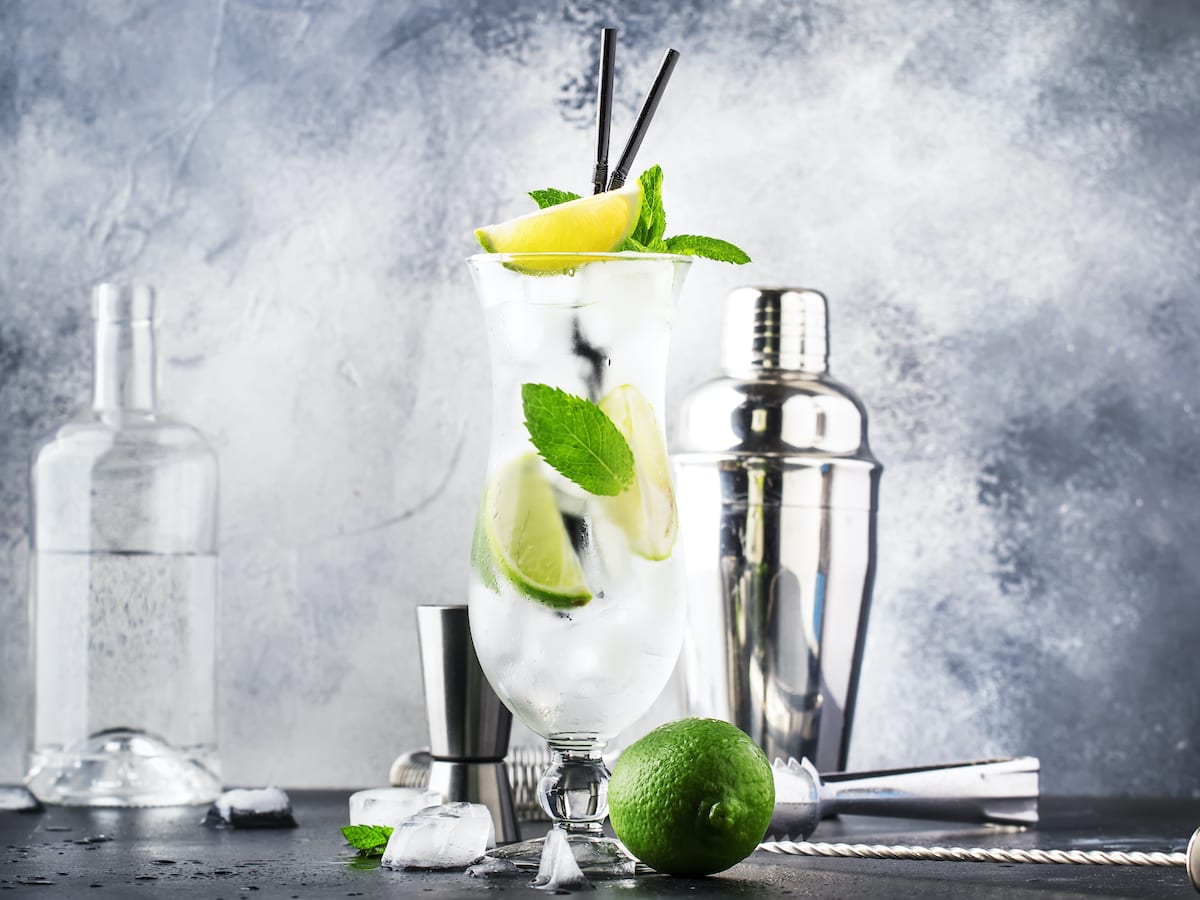 The Caipirinha should not be missing at any party and is especially popular during summer. The preparation is easy and quick. The perfect summer cocktail.
Print
Save for later
Ingredients
7

cl

Cachaça

some

white cane sugar

1

lime

some

ice cubes
Preparation
First cut off the ends of the lime before you cut the fruit into eighths.

Put the lime wedges in a glass.

Sprinkle the sugar onto the lime wedges.

Mash the lime wedges with a pestle (in technical terms also known as a muddler).

Then pour the Cachaça in.

Top up with crushed ice or ice cubes and enjoy.
Notes
Tip: If you want to, you can add a dash of sparkling water and garnish your Caipirinha with a straw.
Nutrition
Serving:
1
Cocktail
|
Calories:
224
kcal
|
Carbohydrates:
19
g
|
Protein:
1
g
|
Fat:
1
g
|
Sugar:
13
g
|
Proof:
38
% vol
Have you tried the cocktail?
Share it with us on Instagram by tagging us! @Alcipedia or with the hashtag #Alcipedia!
Tips for the perfect Caipirinha
Crushed ice or ice cubes? Many bartenders and cocktail fans ask themselves this question when preparing a Caipirinha. Ice cubes are usually used in Brazil, whereas in Germany crushed ice is used.
The cocktail will stay cold for longer when using ice cubes. Since crushed ice has a larger surface area compared to ice cubes, it melts faster. This also makes this drink water down faster. It is up to you which type of ice you want to use for your Caipirinha. Try out both to see what you like best.
When it comes to the sugar for Caipirinha, you have many options to choose from. In Germany, Caipirinha is usually prepared with brown sugar. But white cane sugar is used in the original recipe. It gives the drink a unique sugar cane flavor and has a much finer grain. That's why you should always use white cane sugar for your Caipirinha.
When preparing a Caipirinha, the mixing ratio is not set in stone. Add about one tablespoon of cane sugar and the juice of one lime to 6 to 8 cl of Cachaça. But you can vary the amount and adapt it to your individual preference.
Frequently asked questions
What is the difference between Mojito and Caipirinha?
Mojito and Caipirinha have a few similarities but differ from one another in some important ways. For example, the Mojito comes from Cuba and consists of white rum, cane sugar, lime juice, mint, and soda water.
The two drinks also taste similar. The main difference is that while white rum is used for the Mojito, Cachaça is used for the Caipirinha. Both cocktails have a sweet and sour combination that guarantees a fresh, harmonious taste.
Are Cachaça and white rum the same thing?
Cachaça is often confused with white rum. And for a good reason: after all, both spirits are made from sugar cane. However, there is a significant difference: Cachaça is distilled from sugar cane juice, while white rum is made from sugar cane molasses.
Sugar cane juice is diluted with water and fermented with yeast in a stainless steel container to create the Cachaça. The fermentation process takes 24 to 36 hours. At this point, the sugar cane wine produced during fermentation already has an alcohol content of around 15%.
The mixture is then distilled once or twice until it has an alcohol content of 38% to 48%. Cachaça then ages in wooden barrels for several months or years. In contrast to rum, Cachaça has never really established itself as a drink for connoisseurs.
This is probably because the spirit is considered a rural drink and cannot keep up with the fruity aromas of rum. But Cachaça is particularly good as a part of the Caipirinha.
What is Cachaça Pitú?
If you are traveling in Brazil, you will, sooner or later, come across Pitú brand spirits. One of the most famous Pitú products is the "Pitú Original" Cachaça variety. This spirit is a Cachaça that has not been stored, with an alcohol content of 38%.
The Cachaça from Pitú is also pretty widespread in Germany and is the main spirit used for the preparation of Caipirinhas in this country.
Which Cachaça is the best for Caipirinha?
You can't go wrong with the "Pitú Original" Cachaça. After all, this variety has proven itself. But I recommend you experiment with the preparation of the Caipirinha. Try the Cachaça 51, which also comes from Brazil and is one of the unstored sugar cane spirits.
Cachaça 51 is very popular in the United States, but hardly anyone in Germany knows it. A so-called "Cachaça artesanal" is an alternative to the industrially produced Cachaças. This type of Cachaça is made using the traditional method.
The sugar cane is harvested by hand, fermented with natural yeast cultures, and then burned in small batches inside a copper pot still.
You might also like