White Russian cocktail recipe — Everything you need to know
Today we have a real classic: A White Russian recipe and everything you need to know about the legendary cocktail. With this, you can learn how to make the classic at home.
Anyone who has seen the popular movie "The Big Lebowski" will probably have noticed the cocktail that plays a big role throughout the flick. The favorite drink of the protagonist Jeffrey "The Dude" Lebowski is nothing other than a White Russian.
The Dude downs one sweet cocktail after another while he hangs out with his buddies. What's so special about this cocktail, and is it really as tasty as Lebowski would have us believe?
Where does the White Russian Cocktail come from?
The White Russian is supposedly a variation of the Black Russian. The latter was invented as early as the 1950s by Gustave Tops, the bar manager of the Metropole Hotel in Brussels. The White Russian, on the other hand, was first mentioned in 1965.
What does the cocktail actually have to do with Russia? Well, one of the main ingredients is vodka, which is generally associated with Russia. The cocktail is known in the homeland of vodka but is clearly considered to be an American invention.
How do you mix a White Russian?
The Black Russian, on which its "white" brother is based, is made from two parts vodka and one part coffee liqueur. The "White Russian" adds cream, which earned it its nickname. As with most cocktails, there are also numerous variations of the White Russian.
During the cold season, the drink is often prepared with hot coffee. In the summer, you can add vanilla ice cream to make a wonderfully refreshing drink. Many bartenders let their imagination run wild and give the vodka-coffee-cream cocktail a personal touch. So, it can be more than just coffee liqueur and cream.
Add a little Grand Marnier to the mix, and you have a Cherry Orchard — named after the drama by Russian writer Anton Chekhov.
If you use rum instead of vodka, you get a White Cuban; if you replace the cream with chocolate milk, you already have a Dirty Russian. As you can see, you can experiment and mix a White Russian according to your preference.
White Russian recipe: how to do it right
The ingredients
Everything is simple: you only need three ingredients for a White Russian. But this is where the disagreements begin. At least there's one point all fans of this drink can agree on: vodka and coffee liqueur have to be among the basic ingredients, which can't be left out. But you can prepare the White Russian with milk, like The Dude, or stick to the original recipe and use liquid cream.
The original recipe calls for Half&Half, a type of light cream with a fat content of around 12%. To stay as close to the original recipe as possible, I recommend using coffee cream, as it is the closest to Half&Half in fat content and consistency.
This is where the whipped cream lovers chime in with good arguments. Coffee cream cannot be whipped. But if you use regular whipped cream with a fat content of 30% instead, the White Russian becomes a visual masterpiece.
It's up to you how you prefer to drink your White Russian. There is also an abundance of coffee liqueur to choose from. It doesn't always have to be Kahlua or Tia Maria – look around for a coffee liqueur that gives your White Russian an unforgettable touch.
The preparation
The mixing ratio of Vodka and coffee liqueur is 2:1. Now take one to two parts of cream, depending on your preference. Your cocktail will be great if you only whip the cream lightly without making it stiff. That way, you put the icing on the cake of your White Russian. This cocktail is drunk from an old-fashioned tumbler with lots of ice.
Some bartenders swear by spices to give the cocktail a fancy twist. Sure, cinnamon, or even a pinch of nutmeg sounds quite good but is still a matter of preference. Just give it a try!
With that in mind, let's get started on the recipe.
Classic White Russian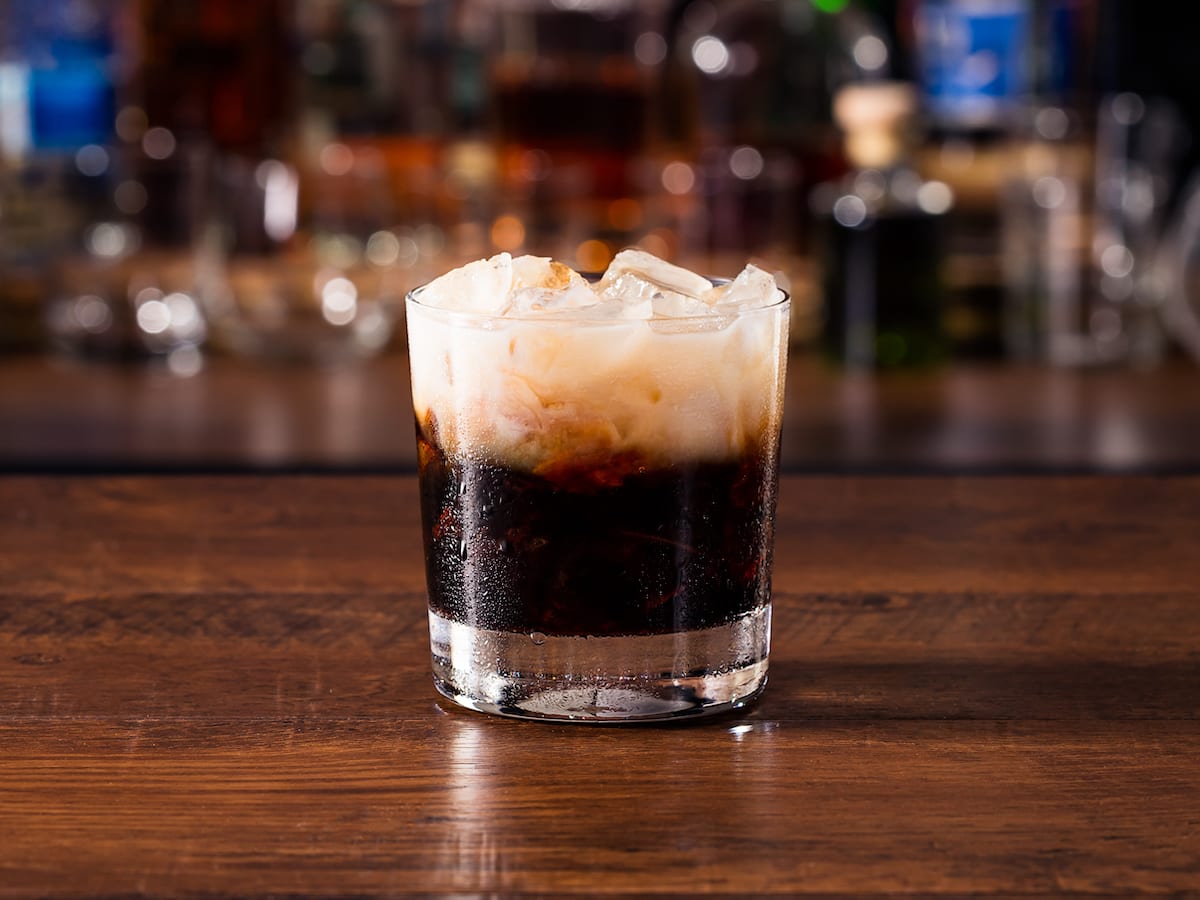 The refreshing classic among cocktails: White Russian. An easy cocktail, consisting only of three ingredients and known from the cult classic "The Big Lebowski".
Print
Save for later
Ingredients
4

cl

vodka

3

cl

coffee liqueur

Kahlúa

5-6

cl

cream

a few

coffee beans for decoration

some

ice cubes
Preparation
Fill the tumbler with ice cubes.

Pour in the vodka and coffee liqueur and stir with a bar spoon until the glass fogs up.

Now pour the cream into a shaker and close tightly.

When you made sure that the shaker is closed, shake briefly until the cream becomes whipped.

Alternatively, you can briefly whip the cream with an immersion blender.

Carefully pour the semi-stiff cream into the tumbler, creating two layers.

Decorate the cream layer with the coffee bean and serve as soon as possible.
Notes
Once you have mixed the vodka with the coffee liqueur, you need to stir in the cream. You have to be a little careful here because the ingredients should form two layers in the glass. This, of course, does not apply when you use coffee cream or milk.
Nutrition
Serving:
1
Cocktail
|
Calories:
37
kcal
|
Carbohydrates:
2
g
|
Protein:
1
g
|
Fat:
2
g
|
Sugar:
1
g
|
Proof:
17.5
% vol
Have you tried the cocktail?
Share it with us on Instagram by tagging us! @Alcipedia or with the hashtag #Alcipedia!
Tips and tricks
If you like it fancy, drink your White Russian out of a martini glass. This, however, comes with a little more effort because you have to mix the drink in a shaker beforehand. It might be a good choice for a fancy party, but if your main goal is to enjoy a delicious cocktail, I recommend sticking to a tumbler.
Interesting facts about the White Russian
"The Big Lebowski" is by far not the only movie to feature the iconic cocktail. In the British sitcom "The IT Crowd" Maurice Moss prefers to drink White Russians, as does Lawrence Maddox in "New York for Beginners". Catwoman, played by Halle Berry, also loves to drink a White Russian but leaves out all ingredients except for the cream.
Which coffee liqueur is best?
There is supposedly an unwritten law that says a White Russian must contain Kahlua. Well, this is also a matter of preference because not everyone likes Kahlua. With that many coffee liqueurs to choose from, you can definitely bring new facets and flavors to your cocktail.
How about a coffee liqueur with chocolate, for example? You can also refine the coffee liqueur with a shot of Irish cream. That's why I like the White Russian so much because you can change it changed according to your mood.
Make your own coffee liqueur.
If you want to add a personal touch, you can even make your own coffee liqueur. For this, you need:
Vodka or dark rum
Coffee beans
Cane sugar
Vanilla bean
You might also like