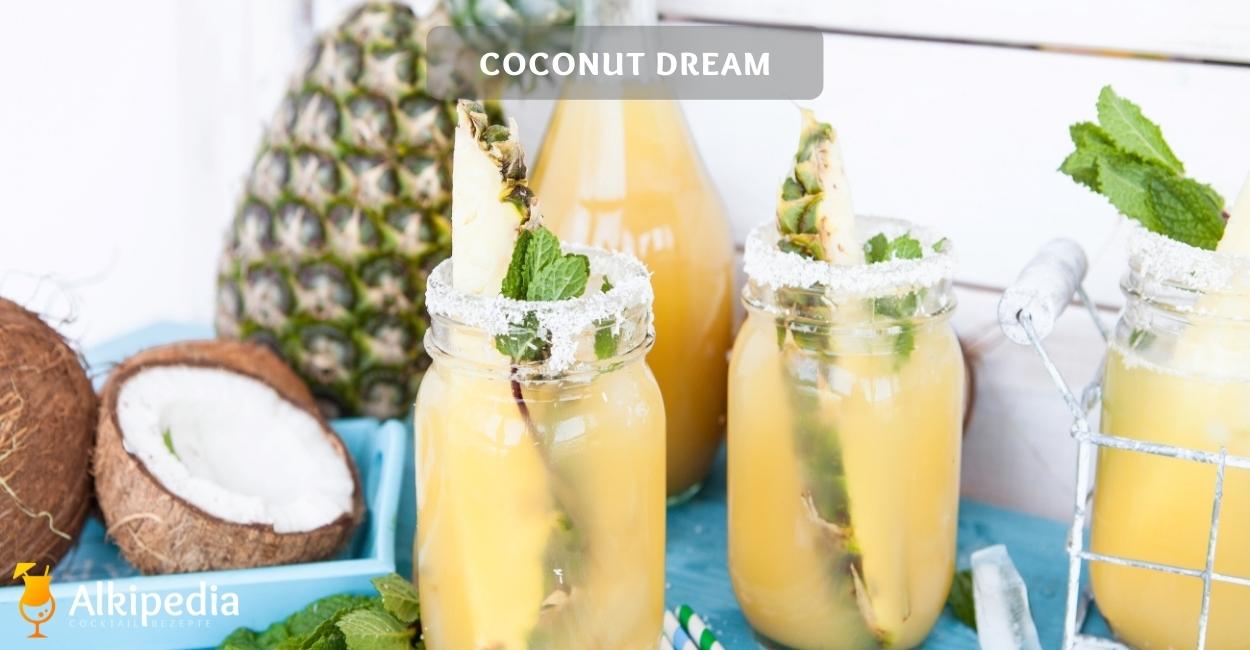 Coconut Dream – Creamy, sweet cocktail with coconut flavor
There are many summer cocktails out there, you just have to know which ones are the good ones. The Coconut Dream is definitely one of them. Not many drinks come with such a unique coconut flavor as this one.
This drink consists of creamy coconut liqueur mixed with Bacardi and a few sugary ingredients from where it gets its sweetness. It is best to enjoy this drink cold. 
The Coconut Dream is delicious and easy to make, and it doesn't clump as quickly in the refrigerator as other creamy drinks. So get the shaker and start mixing because this drink is the perfect summer refreshment.
When was the Coconut Dream invented?
The exact details about the origin of the Coconut Dream have not been passed down. However, it is assumed that the drink originated in the Caribbean, because coconut liqueur was abundant there. In addition, the cocktail was invented around 1960 when the export of food and beverages was not as easy as it is today.
Today, there are countless variations of the original recipe, like the addition of different juices, which give it a fruitier taste. However, the coconut flavor should never be overpowered, because it is what makes this drink special. The creamy-sweet taste is perfect for coconut fans: It transports you to the Caribbean in your mind and creates a relaxed summer feeling.
Coconut Dream
The Coconut Dream is equally creamy and sweet. This summery coconut-flavored cocktail conjures up a wonderful Caribbean feeling. The special ingredient here is the coconut liqueur mixed with Bacardi. All the other ingredients are up to you.
Print
Save for later
Ingredients
3

cl

Bacardi

2

cl

coconut liqueur

6

cl

pineapple juice

3

ice cubes

2

cl

Cream of Coconut
Preparation
Put the pineapple juice, Bacardi, Cream of Coconut, and the coconut liqueur into a blender.

Blend everything and then pour the drink into a glass.

Finally, add the ice cubes and the cold. With this, the creamy-sweet drink is ready to be enjoyed!
Nutrition
Calories:
164
kcal
|
Carbohydrates:
22
g
|
Protein:
1
g
|
Fat:
3
g
|
Sugar:
24
g
|
Proof:
11.7
% vol
Have you tried the cocktail?
Share it with us on Instagram by tagging us! @Alcipedia or with the hashtag #Alcipedia!
Tips for the perfect Coconut Dream
If you like, you can add a few small pieces of pineapple. However, you have to be careful that the pineapple flavor does not overpower the rest of the cocktail since the drink already contains pineapple juice.
For garnishing, you can use a cocktail umbrella. You also can't go wrong with a slice of pineapple next to it. Pineapple goes well with the Coconut Dream in terms of flavor. 
The drink is best enjoyed cold, right after preparation. It can be stored in a cool place for several days, but it loses its creamy-sweet taste after a while. The consistency becomes lumpier, which affects the flavor.
Frequently asked questions about Coconut Dream
Can you also enjoy the Coconut Dream without alcohol?
Yes, of course. You can simply leave out the Bacardi and coconut liqueur. Instead, you can add other juices such as mango or cherry juice, which also complement each other well.
Is it possible to use other types of spirits?
The coconut liqueur is an integral part of the drink, so you shouldn't switch it out. Otherwise, you can use vodka or another rum instead of Bacardi, if you want to. As far as that goes, you have room for experimentation.
What type of glass should I use for serving?
Usually, a long drink glass is used. There is simply more space in it than there would be in a normal cocktail glass. The drink is also relatively thick, which is why it is easier to enjoy the cocktail from this type of glass.
You might also like