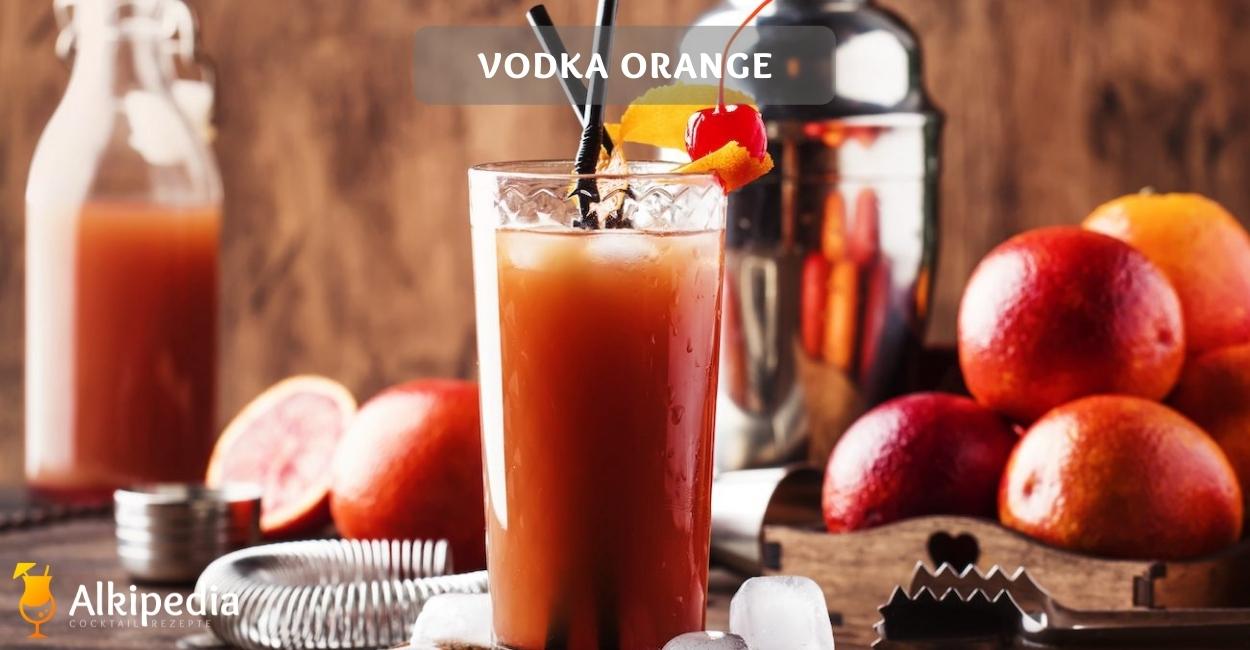 Vodka Orange – The refreshing classic
This delicious mixed drink, also called Screwdriver, is a classic cocktail that is quickly prepared and tastes delicious. Everyone should know the basic recipe for a vodka orange.
It is an essential part of a bartender's repertoire and is great for experimenting and trying out variations.
The Vodka Orange offers the perfect balance of freshness and sweetness. Apart from its delicious flavor, this mixed drink also provides a good amount of vitamin C.
In its basic form, the cocktail only consists of vodka and orange juice, although the mixing ratio can vary according to preference.
The story of the vodka orange:
This very easy-to-prepare long drink spread rapidly in the USA in the 1950s, when vodka became a popular spirit to use in mixed drinks. The history of this drink is somewhat controversial and dates back to 1949 when vodka first gained popularity in the United States.
Some claim that the drink was first popularized by American aviators. According to another origin story, vodka orange was created by American oil workers in the Persian Gulf, who secretly mixed their orange juice with vodka.
They supposedly called the drink Screwdriver because they initially mixed it with a screwdriver when no spoon was available.
Vodka orange
The Vodka Orange is a popular mixed drink, which was awarded by the "International Bartenders Association" as an official cocktail. You can easily mix the orange-yellow Vodka Orange in the glass, so you don't need a shaker.
Print
Save for later
Ingredients
8

cl

orange juice

4

cl

vodka

1

slice

orange

some

ice cubes
Preparation
First, put the ice cubes in a highball glass.

Now add the ice-cold vodka.

Pour the orange juice into the glass.

Mix the ingredients with a spoon.

In the end, decorate the glass with the orange slice.
Nutrition
Calories:
129
kcal
|
Carbohydrates:
10
g
|
Protein:
1
g
|
Fat:
1
g
|
Sugar:
8
g
|
Proof:
12.5
% vol
Have you tried the cocktail?
Share it with us on Instagram by tagging us! @Alcipedia or with the hashtag #Alcipedia!
Here are some tips for the perfect long drink:
Using freshly squeezed orange juice is the best way to fully develop its flavor. This gives your vodka orange an extra fruity and natural taste.
Peel an orange and decorate the glass with the peel instead of an orange slice. This will not only make your cocktail look good, but also extremely professional. In addition, it gives the drink an incomparable flavor.
Frequently asked question: What variations are possible?
The specified mixing ratio is 2 parts orange juice to 1 part vodka. But it's not set in stone, for example, a long drink that mainly consists of orange juice and a small amount of vodka can also be tasty and refreshing.
A few squirts of lemon juice can add the necessary bit of sourness to your Vodka Orange. On the other hand, you can also give the drink a slight sweetness by using a few drops of sugar syrup. There are no limits to your creativity.
You might also like